---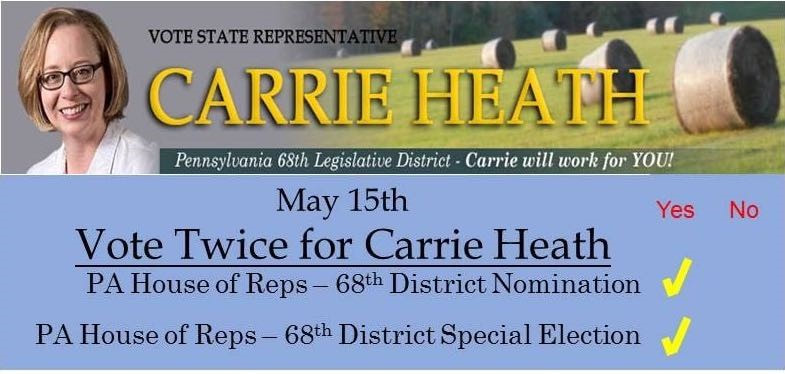 Catching Up with Carrie
Don't miss this chance!
At last week's Rock the Vote event, John Fetterman, candidate for Lieutenant Governor, talked about how his first election as mayor of Braddock was decided by a single vote. Never doubt that your vote and your voice counts!
April 16th, this coming Monday,
is the deadline to register to vote for Carrie in both of the May 15th elections, the Democratic primary AND the special election to finish Matt Baker's term.
You can click here
http://www.votespa.com/en-us\
to register online or print out an application. You can find out here whether you are already registered, whether you are eligible to vote and where your polling place is.
Paper voter registration forms are available at municipal government offices, libraries and state wine and liquor stores.
Any registered voter
in Pennsylvania's 68th District can vote in the special election,
Tuesday, May 15.
Your Independent, Green Party, Libertarian AND Republican friends can vote for Carrie, too!
Voter turnout wins elections. Mark your calendar!
Bring your friends to the polls! This is YOUR chance to change things!
Carrie Rocks theVote
On Tuesday, April 3, Tioga County Indivisible hosted a "Rock the Vote" voter registration and meet the candidates event at The Hut at Mansfield University. There were some incredibly talented bands performing. I spoke to the students about how education was my pathway out of poverty. When elected representative for PA's 68th district, I will fiercely protect my alma mater, Mansfield University, because I know how valuable education from an affordable, local college is.
Dairy Round Table, Troy Sale Barn, April 3
Local dairy farmers shared their issues and ideas with us; better marketing for milk products, diversifying and slowing down production to drive up demand, and changing the outdated federal milk pricing system. Local students have created an app, "Make Milk Great Again", to connect consumers to farmers.
The way a small group of concerned local citizens came together to save the Troy Sale Barn and give it a renewed purpose for the community is wonderful.
Goodies for Our Troops Packaging, April 7
I got to hang out with two of Wellsboro's most famous folks! Dawn Pletcher, "Grandma Dawn" to many students from her years as a substitute for Wellsboro School District, founded and has run Goodies for Our Troops for 13 years. Mike Baker, the volunteer who has worked with her the longest, was Pennsylvania's Special Olympics Male Athlete of the Year in 2009.
We wrapped care packages for area troops who are deployed overseas. I know soldiers who have received these packages. These little pieces of home, these reminders that people are thinking of you, that they care about you, that they are willing to spend a sunny Saturday showing their gratitude for the sacrifices you have made? Those things are priceless.
We have been at war in multiple countries since 2002. Please don't forget our troops. If you have never been to a Goodies packaging event try it. You'll be hooked.
Help Carrie in one minute
- forward this email to a friend!
Help a little more
- check out our website,
HeathforPAHouse.org
.. Learn more about Carrie and her goals. Click the Volunteer button at the top. We need door knockers, envelope stuffers, copy makers, phone callers, poll drivers, poll greeters, poll watchers, people to help us keep track. A little of your time or a lot. We welcome you.
DONATE!
Click on our Friends of Carrie Link to donate online-
https://secure.actblue.com/donate/friendsofcarrie
OR
Send checks made out to:
Committee to Elect Carrie Heath to PA House
11 Sherwood Street
Wellsboro, PA 16901
Please observe these rules for donations:
Personal and PAC (Political Action Committee) checks are acceptable
Contributions cannot be received from corporations, LLCs, unincorporated associations or national banks
Cash donations cannot exceed $100
Thursday evening, April 12, 7:00 pm
National Association of Royalty Owners-PA Chapter (NARO-PA) Candidate Forum
Masonic Hall, 328 Kelsey Street, Wellsboro, PA
Wednesday, April 18, 7:00 - 8:00 am
Galeton Development Corporation Meeting
Brick House Deli, 4 West Main Street,Galeton, PA
Wednesday, April 18, 6:00 - 8:00 pm
Farm Bureau Meet the Candidates Event
Whitneyville Fairgrounds, Route 6, Wellsboro, PA
Thursday, April 19, 7:00 - 9:00 pm
Tioga Democratic Party Meeting, Wellsboro Senior Center, Queen St., Wellsboro
Saturday, April 21, 8:30 - 9:30 am
Lyme Support Group
Saturday, April 21, 10:00 - 2:00 pm
Earth Day at Mill Cove
Monday, April 23, 7:00 - 8:00 pm
Candidate Forum
Sebring Grange, Liberty, PA
Join Carrie's Grandma Heath in the audience!
Tuesday, April 24, 6:30 - 9:00 pm
Candidates Forum
Deane Center for the Performing Arts
104 Main Street, Wellsboro, PA
Paid for by The Committee to Elect Carrie Heath to the PA House
---
ELECTION ON NOVEMBER 6, 2018

---
The only thing necessary for the triumph of evil is for good men to do nothing. - Edmund Burke

---
All tyranny needs to gain a foothold is for people of good conscience to remain silent. - Edmund Burke

---
WE CAN'T AFFORD:


Tax cuts for the rich
Heirs getting billions tax-free
Double taxation on PA taxes
Cutting financial aid to college students
Tax boost for private school students
No taxes for offshore companies
Non-deductible medical expenses
13 million losing health insurance
Increasing our taxes by 2025
Cuts to Medicare and Social Security
Fixing elections by remapping districts
Preventing investigation into Russian election meddling
Allowing gunman to murder our children
More exposure to hazardous chemicals
Insufficient funds to fight drug addiction
Insufficient funds for education

THESE ARE WHAT REPUBLICANS HAVE VOTED FOR.

Take back congress by voting Democrat!
---
WHY THE GOP HAS FOLLOWED TRUMP OFF THE DEEP END
By
Richard North Patterson
In the real world, evidence mounts that President
Donald Trump
has striven to obstruct the Russia investigation ― not least by attempting to fire Special Counsel Robert Mueller. Yet his party plunges ever deeper into a fever swamp of fantasy.
There hallucinations breed. The hitherto impeccable Mueller is conducting a partisan witch-hunt. Spearheaded by a "
secret society
" within its ranks, the FBI conspires against Trump. To cover their tracks, the conspirators destroyed damning text messages ― until the
messages were found
. Yet another conspirator, Deputy Attorney General Rod Rosenstein ― a Republican Trump appointee and Mueller's superior ― "improperly" extended surveillance of a Trump campaign operative who,
beyond dispute
, had extensive contacts with Russian officials.
Unsatisfied with free-floating hysteria, congressional Republicans have now voted to release a memo, written by GOP congressional staffers and cherry-picked from classified information, that supposedly documents the FBI's bias. Never mind that a senior official in Trump's own Justice Department has said that releasing the memo would be "
extraordinarily reckless
." Or that the FBI, headed by another Trump appointee, Christopher Wray,
publicly stated
that "we have grave concerns about material omissions of fact that fundamentally impact the memo's accuracy." Or that the memo is a transparent effort to derail the investigation ― including by providing a pretext for firing Rosenstein as a prelude to filing Mueller.
For Trump's Republican acolytes, only one thing matters ― their leader wants to advance the specious storyline weaponized by this memo to protect himself from investigation, the rule of law be damned. Disdaining the anguished protests from the DOJ and FBI, Trump has authorized its release. And so the GOP propels us toward a constitutional crisis by enabling an American president to attack our system of justice.
This craven embrace of mendacity and autocracy is startling, yet, on reflection, not surprising. Nor is there any apparent limit. For the Republican thirst for political Kool-Aid did not begin with Trump.
His lies and self-absorption have eroded America's communal sense of fact and probity, degrading our expectation of what a president should be. Yet, given numerous opportunities to choose country over party, reason over fantasy, the leaders of his party have remained supine, unable or unwilling to challenge the false narratives which animate a base whose devotion to Trump renders them impervious to his most egregious conduct.
Why? Long before Trump, ever more Republicans became addicted to fact-free narratives through which one right-wing cult or another mesmerized the party faithful. From this petri dish of unreason came Trump's implacable army, propitiated by Republican officeholders who now cynically embrace his slanders against the FBI. The GOP has become a credulous coalition rooted in magical thinking and unreasoning resentment ― the perfect seedbed for a toxic Messiah who creates his own reality.
Take fundamentalists. Roughly one-third of Republican voters are evangelicals, whose core theology demands unwavering belief in the fantastical ― that the Bible is literally true ― and, therefore, the rejection of reason and science.
The Republican Party platform enshrines this religious extremism, excoriating "environmental extremists," forbidding the EPA to regulate carbon dioxide, rejecting the Paris climate accord, and defunding the U.N. convention on climate change. It fuels a war on America's public schools, through which radical evangelicals seek to undermine climate science. It embraces homeschooling. It insists that "man-made rights," like reproductive rights and legal protection for gays and lesbians, are subordinate to "God-given rights" ― defined, of course, by theocrats.
By adopting the worldly grievances of Republican evangelicals, Trump, the self-confessed groper and libertine, has earned their unquestioning obeisance. Thus his embrace of the notional "war on Christmas," exploiting evangelicals' sense of persecution by a secular elite. But Trump also plays to the theological, in which unwavering support for Israel arouses evangelical extremists who believe in the End of Days ― a dismal prophecy which requires the slaughter of Jews in Israel as a precursor to Christ's return.
This incongruous bond creates its own reality. A recent
Quinnipiac poll
showed that two thirds of Americans believe that Trump is not a good role model for children. But not Republicans ― 72 percent, no doubt including most evangelicals, assert that Trump is a superior role model for America's youth. When it comes to repelling Mueller by peddling fake conspiracy theories, such credulity augurs a ready audience of true believers.
His incessant lies, divisiveness, attacks on the press, charges of fake news, and contempt for law ― rather than hurting him ― resonate with the majority of Republicans.
Equally indispensable to Trump's survival is the cult of whiteness. This hardy perennial lodged within the GOP upon the passage of the civil rights laws of the 1960s ― a compound of racism and insecurity through which whites fear a rising tide of blacks, Hispanics and immigrants who threaten their jobs, safety, and social dominance. In 2016 this festering tribalism metastasized, cementing the party's dependence on a white minority for whom anxiety transcends all.
Rapturously, white Republicans cheered a candidate who questioned the citizenship of our first black president; implied that millions of blacks and Hispanics were committing voter fraud; falsified the crime rate among African-Americans and undocumented immigrants; and promised mass deportations, a border wall and drastic cuts in legal immigration. Emboldened, he called for a Muslim registry at home and a ban on Muslims from abroad, asserting that thousands of Muslims in New Jersey had celebrated 9/11.
Transparently, these lies and distortions mainstreamed bigotry. But that was the point ― gaining Trump and his party a greater share of voters driven by racial animus. He succeeded. No evidence of obstruction or collusion with a foreign adversary can dispel the racial angst our president repeatedly roils to cement their allegiance.
Similarly, Trump exploits white paranoia's armed cousin ― the GOP's cult of gun worship. Since 1968, firearms have claimed the lives of more Americans than all the wars in our history. Yet every massacre of innocents spurs elected Republicans to parrot the NRA's murderous myth ― that the only solution to gun violence is to arm every American with whatever weapon of war most arouses their fantasies.
Within the NRA, fantasies abound ― not least that well-armed citizens routinely protect Americans from an onslaught of predators. So who are these statistically modest menaces? In speeches, blogs and broadcasts, the NRA implies the answer ― minorities.
With unequaled ferocity, the NRA supports a president who promised to end the "eight-year assault on your Second Amendment freedoms." It's a very short distance from an imaginary government plot to disarm gun owners to one intended to disempower Trump.
Another Trump-bedazzled Republican cult is the Tea Party cum Freedom Caucus: white, male, middle-aged, religious, conservative and, like many cults, incoherent. With Trump, one leader crowed, its "values and principles" are finally empowered. Whatever they are.
The Tea Party's stated concern is deficit reduction, but their real program is anger ― at immigration reform, gay marriage, the media, the social safety net and, especially, the federal government. Little wonder that the leader of the Freedom Caucus in the House is ready to attack the institutions of government so displeasing to Trump, proclaiming his shock at the conspiratorial FBI depicted in his colleagues' bogus memo.
Far more calculating are Republican donors like the Koch brothers, bent on furthering their plutocratic cult of Ayn Rand, Paul Ryan's intellectual wellspring.
In Rand's Hobbesian America, only the creative selfishness of unfettered capitalists can rise above our collective mediocrity. This is libertarianism run amok, empowering wealthy donors who see government as their adversary ― unless it's their tool. This ethos of Mammon suffuses Republican policies promoting unlimited campaign donations, deregulation and, most recently, Trump's tax bill.
To further delude the base, Republicans resuscitated the hoary myth central to their donor-driven worldview: that tax cuts pay for themselves or, at least, offset much of their costs by stimulating economic growth. This GOP Tax Fairy has been thoroughly discredited by Republican economists and, more importantly, by economic history. No matter ― the legislation passed. Now the donors who finance Republican officeholders are bonded to the president who signed their dream bill into law.
As we are now seeing ever more clearly, the psychic glue that unites many of these groups is an instinctive authoritarianism. In 2016 a
survey group
of Republican primary voters was asked which traits are most important in raising children: independence or respect for elders; curiosity or good manners; self-reliance or obedience; being considerate or being well behaved.
Half the Republicans who chose the second ― or authoritarian ― answer supported Trump. Analyses by
George Lakoff
and
Amanda Taub
amplify these findings. Their essence is that Trump's distinctive persona satisfies a craving for authority which is particularly strong among evangelicals, those who feel economically and socially threatened, and white Republicans of limited education.
These groups respond to promises of direct action to impose clear and simple solutions. Trump's relentless demagoguery gives anxious Republicans the empowering sense that a patriarchal leader will repel their enemies ― a visceral connection intensified by the fear of terrorism. Thus his gratuitous attack on black athletes who protested during the national anthem, a ploy calculated to strike every emotional chord.
By instinct and design, Trump is profoundly authoritarian. He has succeeded in casting himself as the one-man-fits-all solution to the resentments roiling a party pre-conditioned to fantasy and myth. Thus his incessant lies, divisiveness, attacks on the press, charges of fake news, and contempt for law ― rather than hurting him ― resonate with the majority of Republicans who, according to polls, support "punishing biased or inaccurate news media, even if that means limiting the freedom of the press."
For his followers, Trump is their mystical leader, a human Powerball ticket. It scarcely matters that he behaves less like an American president than a Russian asset. According to a
December poll
, only half of Republicans believe our intelligence community's assessment that Russia interfered in our 2016 election, and a mere 10 percent believe what appears more and more obvious ― that the Trump campaign colluded with Russia.
Terrified of their wrath, Republican legislators and their propagandists at Fox News are rushing to help Trump bury the facts by attacking what he calls the "powerful forces in Washington trying to sabotage our movement." Effectively, they are encouraging Trump to conceal his apparent obstruction of justice by further obstructing justice ― all to thwart investigation of the ties between America's president and our leading foreign adversary.
Faced with a rogue president whose sole loyalty is to self, our constitutional defense is impeachment. There are ample grounds, not only in his unfitness for the presidency but his contempt for its obligations and constraints. But there is seemingly no limit to the devotion of his cult, no depths to which a critical mass of elected Republicans like Speaker Ryan won't sink to serve their narcissistic Messiah. The honorable men who resist ― like Sens. Jeff Flake and Bob Corker ― have been driven to the margins of power.
The lesson is indelible: We will not escape Trump's thrall until Americans reject the party that spawned him.
THE RESULTS OF VOTING REPUBLICAN
Before voting based on some "hot button" issue, consider how your family will be affected by:
Tax cuts for high-income individuals at the expense of the working people
Continuing to allow tax loopholes that the rich and corporations use to avoid paying their fair share
The rich passing on huge fortunes to their heirs with little or no taxation
The rich buying Congress and legally hiding their contributions from scrutiny
Wall Street legally being allowed to cause another depression
Keeping the minimum wage so low that many workers are forced to collect welfare
Decline of the quality of life due to stagnant wages caused by the rich outsourcing jobs abroad to raise profits
Big insurers, drug companies, and major hospital lobbyists preventing good health care for all

No Medicare or Social Security
Business-friendly regulations weakening labor, public health, and environmental regulations
Ignoring climate science and adding to global warming, making portions of the planet uninhabitable
Climate change causing sea level rise which will wash away housing for millions
The spread of union-hostile "right to work" laws
An unprecedented wave of restrictions on women's rights
Legislation impeding the ability to get equal pay for equal work
Large-scale layoffs of teachers and public sector workers who are likely to support Democrats
Keep putting guns in the hands of crazy people who will kill you or your children
Condoning the killing gays and supporters of: women's' freedom and keeping guns away from crazies
Supporting anti-gay, anti-choice, anti-science, anti-Latino, anti-Muslim, right-wing extremists
Supporting fascism, violence, poverty, and anarchy
Today's America has nothing in common with the democratic dream envisioned by Washington, Jefferson, Madison and Adams. Democrats are the modern equivalent of the colonists who battled at Lexington and Concord - as we battle for the America that the founding fathers envisioned – and against the creeping oligopoly that the founders warned against.
You may not think Democrats are perfect, but Republicans are getting nuttier by the day – yikes!
THE REPUBLICAN PARTY by Wes Williams
Radio host Thom Hartmann says that the Republican Party is made up of three types of people: the rich, shills for the rich, and suckers. That's an accurate description, but not detailed enough. Each of those categories can be broken down further, to give a more precise picture of the makeup of the modern Republican Party. With that in mind, here are the eight types of people who currently call themselves Republicans.
1. The Oligarchs - Example: Sheldon Adelson
The oligarchs are the financial backers of the party. They rarely seek the limelight, but sometimes find themselves thrust into it. They are the "kingmakers," thanks in large part to the
Citizens United
decision. Witness the Koch brothers' recent vetting of announced and likely Republican presidential candidates, trying to settle on the one who will receive a massive infusion of their cash. Ditto Sheldon Adelson,
who spent $93 million
on the 2012 election, according to the
Washington Post.
Those are the biggest examples, but there are many more.
2. The Billionaire Industrialists - Example: Mitt Romney
This group of Republicans could also fit into the category of oligarchs, but, unlike the oligarchs, they don't want to be kingmakers, they want to be king. They see America as belonging to people like them: wealthy, and powerful. If you're struggling to make ends meet, these guys will tell you that it's just because you didn't work hard enough, or weren't creative enough. Never mind that most of these guys — Romney, Donald Trump, etc. — inherited wealth, positions of power, or both. If you're poor, or middle class, and struggling, well, just work harder, and more. Sleep is overrated, anyway.
3. The Corporate Shills - Example: The Cato Institute
There are so many individuals shilling for the oligarchs, and financed by them, that it is easier to talk about the organizations they work for, than to identify each person. The Cato Institute,
which describes itself as
"a public policy research organization — a think tank – dedicated to the principles of individual liberty, limited government, free markets and peace," is just one of dozens of these groups.
According to
Forbes,
Charles and David Koch (see "Oligarchs" above)
have contributed millions
to the Cato Institute. It's almost laughable to read Cato's description of how the group is funded, which says:
"In order to maintain its independence, the Cato Institute accepts no government funding. Cato receives approximately 80 percent of its funding through tax-deductible contributions from individuals, with the remainder of its support coming from foundations, corporations, and the sale of books and publications."
Other groups, that put out pseudo-research designed to promote the interests of the oligarchs who fund them include: Americans For Prosperity (another Koch brothers funded group), the American Enterprise Institute, the Heritage Foundation, and many, many more.
4. The Religious Hucksters - Example: Franklin Graham
This faction of Republicans has an important job: To convince people to vote against their economic self-interest, by using "wedge issues" such as same-sex marriage, abortion, fear of Muslims (or "MOOs-lims" as Graham would say), etc. This group is extensive, and counts as members those with well known names such as Graham, as well as unknown preachers who step into the pulpits of numerous churches every Sunday. But they're all selling the same message: vote Republican, or God will want nothing to do with you.
5. The "Noise Machine" - Example: Rush Limbaugh
The noise machine is extensive, and it permeates the airwaves. Limbaugh has, for years, been the CEO of the Republican noise machine, but, after a series of gaffes cost him many sponsors, his star seems to be fading. There are plenty more out there, whose names may not be as big, but who are just as good as stirring up the uninformed, including: Laura Ingraham, Michael Savage, Mark Levin, and so on. Of course, this section can't leave out the entire cast of characters at Fox News
.
From the curvy couch crew of
Fox and Friends
, to the evening rants of Bill O'Reilly and Sean Hannity, Fox News is one 24 hour noise cycle.
Of course, the job of this segment of the party is to tell half truths, and flat out lies, to those who aren't paying attention, in order to, again, get them to vote against their own self-interests (see "Religious Hucksters").
6. The War Hawks - Example: Dick Cheney
These Republicans have never seen a war they didn't like. Some of this group served in the military, such as John McCain. But many of them, like former vice president Cheney, have never worn a uniform. They see the world as a dangerous place that can only be tamed by American intervention. Intervention that might require
your
child to go fight and die. But not their children. They have more important things to do, like grow up to be leaders, who will then send other people's children off to fight and die. This group sees any dissent from a Republican president's war plans as "unpatriotic." But, they will travel the world to criticize a Democratic president for his handling of American conflicts he inherited from a Republican.
When talking about this group, we can't leave out their connections to the defense industry. Isn't it interesting that most of the biggest hawks in the country have the deepest ties to the military-industrial complex?
7. The Country Clubbers - Example: Hundreds of thousands of upper middle class voters
This group includes a lot of educated people, who should be able to see through the claims made by the shills and hucksters. But hey, they live in gated communities. They're doctors, lawyers, businessmen and women. Republicans keep their taxes low. And those wars Republicans like to start? No worries. The children of this group are in some sort of professional school, or preparing to take over the family business. They're too busy to do anything like sign up for military service. Even though they don't make anything close to the money made by the oligarchs and other billionaires, they're comfortable. They don't need things like food stamps, so they don't really see the purpose of them. They take advantage of all sorts of tax deductions, but don't like the idea of others getting government assistance. Their motto could be "Government program that helps me — GOOD. Government program that helps you — BAD!"
8. The Dumb*sses - Example: The Tea Party
This is an example of one place where something called "trickle down" actually works. Everything done by the members of the first six groups in this summary winds up here — with people who listen to what the shills have to say, and who vote the way the oligarchs want them to. Were it not for this group of terminally uniformed voters, mostly old, mostly white, mostly uneducated, there would be no Republican party, or at the very least, it wouldn't resemble what it is today.
These people hate the government, but love the largest government agency — the military. They're quite happy to send their kids off to die in Republican wars, to protect their "freedom." They opposed the so-called "government takeover of healthcare," aka the Affordable Care Act ("Obamacare"), but don't you dare touch their Medicare. They think that President Obama is a Muslim, Kenyan, socialist, who is destroying America, but don't you dare call them racists.
You have to give the chiefs of the Republican Party credit. They have all of the pieces in place, and the thing runs like the proverbial "well oiled machine."
This is why Democrats can never rest. And why we must always, ALWAYS, get out and vote.